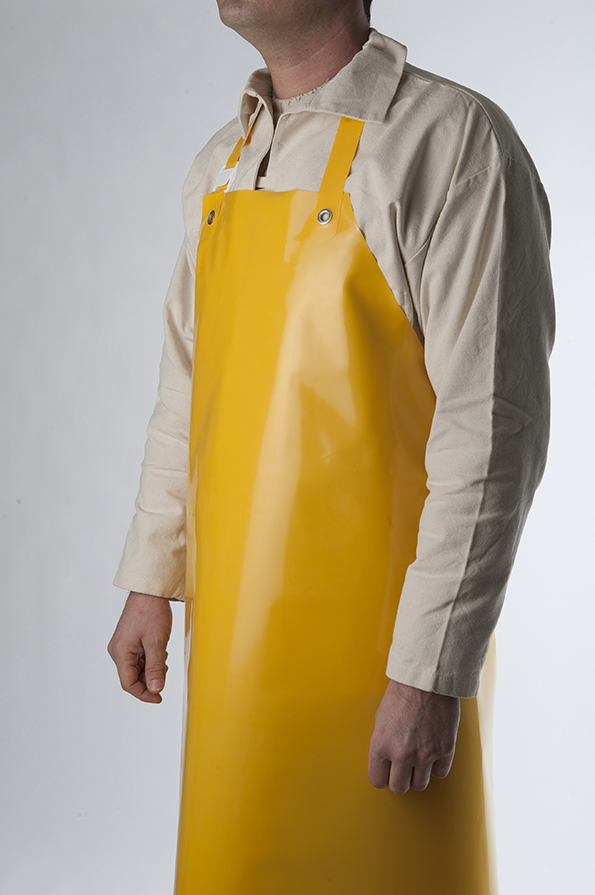 Protective apron - 100% made of polyurethane. Assembly without stitching, eyelets and rivets made of nickel-plated brass.
PRODUCT
Material : Polyurethane (Esther) without weft
Thickness : 30/100, 350 gr/m² Colors : white - blue - red - yellow - green
Thickness : 50/100, 650gr/m² Colors: white only
Protective apron 100% made of polyurethane. • Assembly without stitching, stainless steel or plastic eyelets.
CHARACTERISTICS
Perfect product for the manufacturing of aprons dedicated to food-processing and chemical industries.
Resistant to :
• Animal fat
• Hydrochloric acids at 30% and bleach at 40°
• Alkaline washings
• Animal oils and blood
• Temperature changes
• Tearing up
The POLYURETHANE APRON is recommended for :
- SLAUGHTERHOUSES
- FOOD-PROCESSING INDUSTRY
- GUT-DRESSING
- BUTCHERY
- SAUSAGE MANUFACTURING
- FISH INDUSTRY
- HEALTHCARE APPLICATION, VETERINARIANS,...
Very flexible and smooth-looking the PU apron can be washed very easily.
CLEANING
Machine washing (60°)
The apron needs to be hanged for flat drying.
Washing by high-pressure water jet and steam.
Resistant to many organic solvents, washing powders and soaps.
DIMENSIONS
Width: 90 cm, Height: 115 cm.
Other dimensions available on request.
CLASS : EPI.1.
STANDARD : FDA standard 21 CFR 177.2600. Complying with the 89/686/CEE European directive.