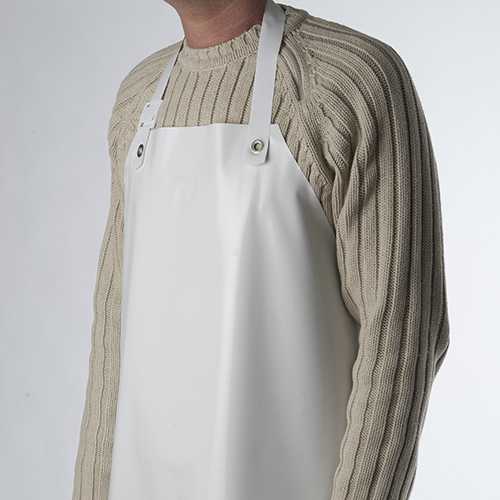 PVC apron for pastry maker
SF protective APRON is made of a lightweight vinyl cloth which is coated on one side. It is resistant to usual washing products and very efficient against dirt and moisture.
PRODUCT
Material : coated with PVC on one side Lightweight,
smooth and shiny vinyl Thickness : 20/100
Color : white
CHARACTERISTICS
Protective apron, with one side made of waterproof PVC and one side made of polyester cloth for comfort.<br/> Perfect for pastry or chocolate makers.
It can be used also for any maintenance or cleaning work.
Apron manufactured with stitched ties and hems and plastic eyelets.
CLEANING
Water washing (30°) without spin-drying
Flat drying
Resistant to washing powders and soaps
DIMENSION
Width 70 cm, Height 100 cm.
Complying with 89/686/CEE European directive. Free-phthalate PVC.