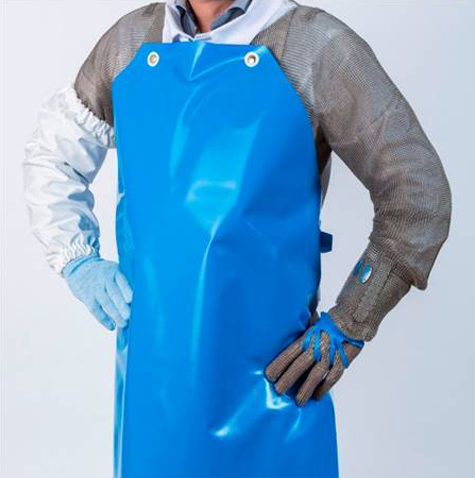 The over-apron protects the chainmesh apron against dirt.
PRODUCT
Material : Polyurethane (Esther) without weft Thickness : 30/100 or 20/100
Color : blue

Protective over-apron - 100% made of polyurethane.
It is fixed on the chainmesh apron thanks to snap fasteners.
Back fastener thanks to elastic and hook.
CHARACTERISTICS
Highly resistant to:
- Animal fat
- Hydrochloric acid at 30% and bleach at 40°
- Alkaline
- Aux huiles lyes
- Temperature changes
- Tearing up Very flexible and smooth-looking, the PU over-apron can be washed very easily.
CLEANING
Machine washing (60°)
Washing by high-pressure water jet and steam (60°)
The apron must be hanged for flat drying Resistant to many organic solvents, washing lyes and soaps Complying with the provisions of the 89/686/CEE European directive. Phthalate-free PVC.